3 Steps to Secure Your Pool
Summary
– The regulations around swimming pools
– Step 1: Simple and useful precautions
– Step 2: Keep an eye on them constantly…
– Step 3: Case 1: Install a protective fence
– Step 3: Case 2: Equip your pool with a safety cover
– Step 3: Case 3: Install a cover
– Step 3: Case 4: Install an alarm
Is it indispensable to emphasize that securing your pool should be every owner's primary and permanent concern? Despite instructions, equipment, installations and the strict framework of the regulations, the toll is still too high every summer!
Here is our advice on how to make your pool safe.
The regulation around swimming pools
Swimming pools for individual or shared use, with a partially or totally buried pool, must be equipped to prevent the risk of drowning, especially for young children.
The regulation requires that the pool be equipped with one of the following 4 safety devices, with the obligation for these products to meet the associated standards
– protective barrier;
– safety cover;
– shelter;
– alarm.
1. Simple and useful precautions
Simple and common-sense instructions also contribute to the safety of pool users and are worth mentioning:
– Prohibit running on the coping, do not jostle each other.
– Keep the equipment in good condition: do not leave a defective diving board or a broken ladder step.
– Avoid the abundance of accessories, mattresses, and large buoys floating on the surface of the water; they hide the occupants from view.
2. Keep an eye on them constantly…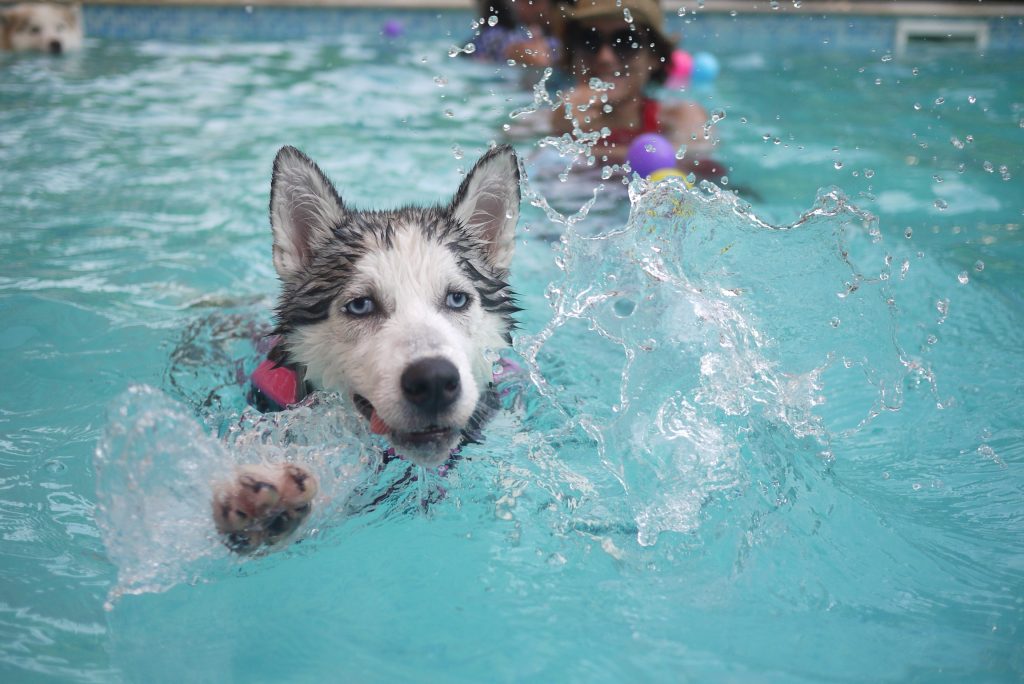 Installing a technologically advanced, approved safety device, certified as compliant, does not free you from remaining vigilant:
– Never leave it to older children to look after younger ones.
– When you are yourself around the pool, with the alarm system disconnected, never let your attention wander: it only takes a few seconds for a child to find himself in a situation that will require immediate intervention on your part.
3. Case 1: Install a protective fence
The protective fence around the pool is still the most common choice. Indeed, it is very effective because it opposes a physical barrier to the passage.
This solution also has the advantage of adapting quite easily, for some even with elegance and aestheticism, to a garden decor and to adopt a varied style, in materials ranging from wood, to steel, through PVC and glass.
Compliance
To be compliant, a pool gate must meet the (NEC), or NFPA 70, standard, and so:
– Have an access gate equipped with a lock and key.
– Prevent a child under 5 years old from accessing the pool area alone: an automatic double lock allows to fulfill this point.
– Be installed more than 100 cm from the edge of the pool, with a height of more than 110 cm.
– Not be able to cause injury.
Installation
A safety fence must be solid and well anchored in the ground: installing a safety fence requires at least the skills of an experienced handyman or even a mason.
Tips
– Check regularly that the lock is working correctly.
– Do not place a high object (table, slide) near the fence that could act as a staircase for a climbing child.
– Lock the fence or gate system, even for a short time: a child turns around so quickly.
3. Case 2: Equip your pool with a safety cover
Equipping your pool with a cover allows you to combine the safety aspect with comfort and protection. The choice is also vast, from the simple bubble cover to be unrolled manually to the rolling shutter.
The cover can even have thermal qualities.
Standards
To be compliant, a pool cover must meet the standard (NEC), or NFPA 70, and must, therefore
– Prevent the involuntary immersion of a child under 5 years old.
– Resist crossing by an adult.
Tips
– Avoid net-type covers; they only retain the biggest waste.
– The extra cost of an automatic cover is more than justified; you will not have to make any effort to put it in place.
3. Case 3: Install a cover
Better than a cover, a pool cover provides more protection, comfort, safety and sturdiness. Some have an elegant look and allow you to swim in all seasons, rain or shine.
The pool cover prevents water pollution and evaporation, reduces water consumption and treatment products, relieves the filtration system, and reduces maintenance.
There are many models: sliding, telescopic, removable, folding, low, half-high and high, with multiple shapes.
Its cost is higher, but its use is simplified.
Standards
To be compliant, a pool cover must meet the standard (NEC), or NFPA 70, and must, therefore
– Prevent the intrusion of a child under 5 years old in the closed position.
– Not be able to cause injury.
Installation
Most pool enclosures require professional installation.
Moreover, depending on the size and height, you will have to make a prior declaration of works or even a request for a building permit. Ask your local city hall for more information.
Advice
– Don't start assembling a kit shelter alone if your DIY skills are limited.
– It is a long-term investment that will extend the life of your facilities and your pool.
– Only the low enclosures are retractable; their lightness allows them to be easily dismantled and stored.
3. Case 4: Install an alarm
The alarm is a solution to this security obligation. These devices avoid greatly altering the landscape, as do shelters and fences. However, their effectiveness is not absolute.
Two types of devices exist:
– Underwater alarms are triggered after detecting acoustic waves generated by the fall of a body into the water.
– Infrared perimeter alarms are triggered when a person crosses a virtual barrier of infrared rays. There are at least 4 of them around the pool.
Standards
To be compliant, a pool alarm must meet the standard (NEC), or NFPA 70, and must, therefore
– Detect the fall of a child under 5 kg.
– Not be triggered in an untimely manner.
– Have a control box that is out of reach of children.
– Emit a signal when the battery becomes low.
Installation
Easy to install does not require any particular implementation.
Tips
– Some sophisticated alarms have more advanced functions, automatic start-up, malfunction alert… Beware, remain vigilant and do not trust them completely.
– Wrist alarms are now on the market, their efficiency seems better.
– Check regularly that your alarm is triggered correctly.
Read more: