How Can an Automated Home Save Energy
How Can an Automated Home Save Energy
Contents
Energy savings with the automated heater
The automated water heater
Home automation for lighting: more savings!
Automated shutters for the automated home
automated home: even more energy savings
The contribution of home automation, automated objects, and Internet applications open up many possibilities for savings. Thanks to an automated house, you can save energy with all the consumption devices' programming and remote control. You can thus strongly reduce your bill with low investments.
Energy savings with automated heating
This item often represents more than 50% of your home's energy consumption.
You can achieve energy savings in several ways:
programming the heating temperature over time, by room or centrally;

presence sensor to turn on/off/adjust the right temperature, according to your lifestyle;

remote action via your smartphone (or tablet) to turn off, turn on or reduce your radiators.
This heating control requires connectable radiators (via pilot wire or wireless system). New radiators are equipped with pilot wires. For older ones, it is sometimes possible to add a wireless system.
This control also requires a programmable thermostat, centralized for central boiler heating or distributed on the different radiators for electric heating. 
Forgot to turn the heating off or down while you were away? One click on your smartphone is enough to do it! You can then control, from a centralized tablet installed at your home or remotely with your smartphone, your house's heating.
Note: It is not enough to be equipped to make actual savings, but it is imperative to set up your heating correctly. Thinking about your lifestyle with the advice of a professional programmer can help you find the proper comfort/savings ratio.
The automated water heater
Water heating is another important item of energy expenditure (and therefore of your energy bill). The automated home allows you to program water heating according to your lifestyle, especially with an electric tank.
At the same time, some devices save water: less water to heat means less energy spent. This can also allow you to get a smaller water heater (therefore less expensive to buy).
Home automation for lighting: more savings!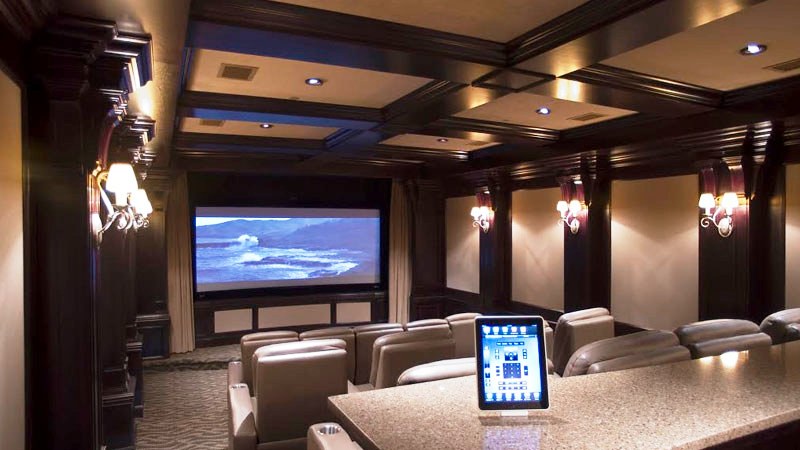 Another energy expense, your home's lighting, is also a source of comfort. The automated home allows you to obtain lighting adapted to your current activity and optimize energy consumption.
Thanks to installing automated switches and sockets, all your electrical appliances can become automated and programmable remotely. You will be able to:
Control your lighting remotely.

Program the switching on and off or reduce the lighting according to your life habits.

Follow the consumption of your different lights and reprogram accordingly if necessary.
Thanks to the installation of presence detectors, you can program the lighting on or off by your presence in a room without touching a switch. You gain comfort but also the saving of lamps lit unnecessarily.
Good to know: the common areas of buildings can be equipped with presence detectors to turn on or off the lighting. A saving of charges is possible while maintaining security and comfort of use. You can also study with your condominium manager and improve the programming in the collective heating systems. 
Automated shutters for the automated home
The programming of shutters, especially those located in your home's southeast, south, and southwest rooms, also allows you to save on heating or air conditioning. Thus, opening the shutters to the south will heat your room in winter. Closing them in summer will avoid an overheated room (and air conditioning consumption if you have it).
Most of the time, you can connect new equipment. For old installations, solutions exist. Consult a professional.
Automated home: ever more energy savings
The automated home can save you 20, 30, or even 40% on your bill, depending on your current configuration. If your equipment is recent, the extra cost is low: count $40 to $70 for programmable outlets or switches and $70 per radiator to equip your heating system with a programmable and automated central thermostat. Don't hesitate to ask a home professional for advice.
Read more: