The Wireless Indoor Alarm With Flash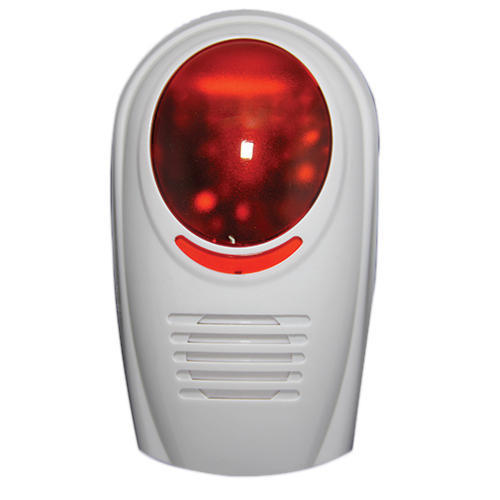 Security systems such as wireless alarms combine the latest technologies in home security. Wireless alarm with flashing lights can warn the occupants of a house and scare away burglars. This makes it the best audible warning device you can have.
What Is a Wireless Indoor Alarm With Flash?
An alarm is a warning device designed to alert the priority of a house and the neighborhood in case of incident or burglary. Indeed, it emits a sound signal that warns of the presence of danger. This signal is emitted by an alarm siren often linked to an alarm system.
A security alarm system is always equipped with a siren. This can be either autonomous or integrated.
A Stand-Alone Alarm
As its name suggests, the stand-alone alarm siren does not need to be connected to any security accessories or to the house's central alarm station to operate. In fact, it works on its own and with the help of one crucial element: a motion detector.
An Integrated Alarm
This is much more efficient than the stand-alone alarm siren. It is mainly used with wireless or wired security systems. But the wireless models with flash are the most used. Moreover, they are easy to use and install.
Wireless Alarm With Flash: More Efficient Products
These are alerting devices usually connected to a central alarm station wirelessly. When a detector is triggered, the control panel automatically and quickly transmits a signal to the alarm. The siren then emits powerful sound signals. It also triggers flashes of light intended to disturb the criminals while making them flee from the property. This triggering can also be done via remote control.
A Well-Thought-Out Design
The wireless alarm siren with flash has a well-thought-out design and can easily be adapted to all styles and decor. But it also has an anti-vandalism system, offering protection against deliberate damage.
A State-Of-The-Art Product
The wireless siren is a highly sophisticated modular electronic product. It is therefore ideal for warning systems that require regular monitoring and control.
This device is also equipped with a self-diagnosis of the batteries and the general status of the siren. It also has several communication and control options.
A Well-Equipped Product
Wireless alarm sirens usually have built-in batteries that allow them always to work, even in the absence of electrical power. This device also can control external equipment and react quickly to impulses.
In addition, a wireless alarm siren with flash has several essential accessories and components, including:
Support poles;
Flashing lights;
Backup batteries;
Cables;
Communication antennas, etc.
Choosing a Wireless Alarm
The quality of an alarm depends on several criteria, but it is advisable to choose the most suitable one for your alarm system. Its effectiveness also depends on its performance. In other words, it must activate immediately in the event of an incident. A powerful siren must also be audible so that occupants can hear the signal.
Many companies offer top brand alarm systems with extremely powerful and efficient sirens. You can also ask for the advice of some professionals in the field of security and automation. Indeed, they will be happy to help you.