Home Automation and Lighting Management
I

ntro: a house that turns itself off
Very practical for those with a head for heights, light bulbs that turn on and off automatically are the home of the future.
There are several advantages to this intelligent system:
    – make it look like you're there, on vacation or at night;
    – to make your life easier when you come home in the evening, with your groceries under your arm, your bag under the other one, the mail between your teeth;
    – detect a presence and scare the burglar;
    – avoid wasting energy.
Contents
    – Home automation and lighting management
    – Equipment for efficient home automation of lighting
    – Home automation: enhancing lighting ambience
The term "smart home" is used for individual homes with a home automation system – a valuable asset for our comfort, the preservation of the environment, and the home's security. 
 In this case, all the equipment and domestic functions (TV, shutters, gate, swimming pool, heating, lighting, etc.) are managed by pre-programmed and calculable life scenarios from a home automation centre.
Home automation and lighting management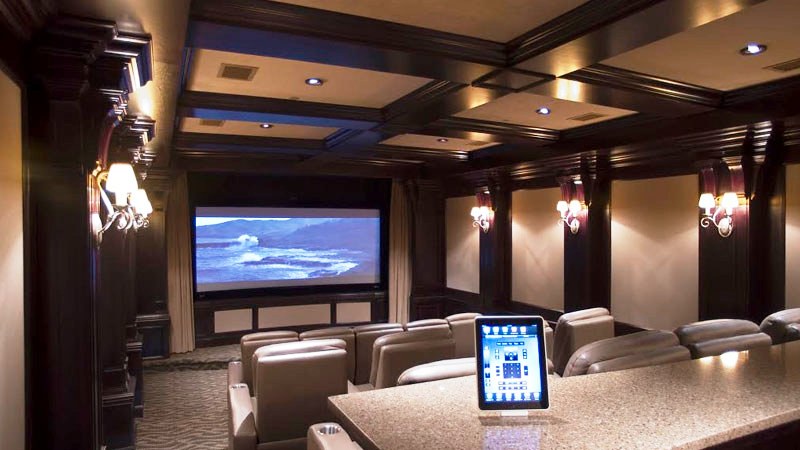 The home automation of lighting is interdependent with the home automation of heating.
Together, they participate in the energy-saving measures required by the "Low Energy Housing" standard. How does it work?
    – It anticipates your needs and provides energy where and when it is needed!
    – It follows the changes in your life rhythm… or your moods. Modifying a scenario (returning from work, relaxing, leaving on a trip, watering the lawn, etc.) is a fun and straightforward gesture thanks to home automation programming.
    – It repairs your blunders (light left on, forgotten appliances on standby…).
    – It alleviates handicaps (home automation for the elderly).
    – It simulates your presence in case of absence. The home automation of security is one of the first reasons to use a home automation company.
    – It manages the peripheral equipment (home automation of the pool);
Good to know: you can make significant energy savings by adding the motorization of shutters and blinds.
Equipment for efficient home automation of lighting
Today, the home automation market is full of high-performance equipment:
    – Without being exhaustive, here are the main ones to plan for:
        ◦ optical switches;
        ◦ infrared switches, optical;
        ◦ sensors (or probes) for darkness, presence, etc. Exist to collect various parameters;
        ◦ home automation software adapted to your needs;
        ◦ home automation remote controls;
        ◦ home automation control unit (a professional model already includes home automation software). It can be a simple PC, TV or cell phone.
    – The principle of the communicating house is essential to understand the multiple possibilities of home automation.
    – Think also about home automation kits.
Good to know: opt for presence detectors (sensors). They detect the infrared radiation of the human body and turn off the light when a room is unoccupied.
Home automation: enhancing lighting ambiences
Home automation at the service of interior design
There are five distinct and common types of lighting in a home.
Home automation allows you to associate, combine, inter-connect, program, etc., to satisfy your needs and desires in the blink of an eye.
    – Ambient" lighting: concerns the whole room with wall lights, ceiling lights, halogens, etc.
    – Spotlighting: light directed on a specific point of the room, leaving other areas in the shade. We use spotlights, small lamps on a stand, low-intensity bulbs…
    – Decorative" lighting: often, with the help of unidirectional spotlights or LEDs, we can model volumes, create shadows… A work of art is thus highlighted.
    – Functional" lighting: adapted to daily activities: cooking, reading, DIY, and places of passage: corridors, stairs, thresholds …
    – Kinetic" lighting translates into lively and warm lighting: candlelight, fireplace, etc.
Good to know: home automation allows you to play with light thanks to LEDs or even multi-colour projection on the wall of a room. Decorative effect guaranteed!